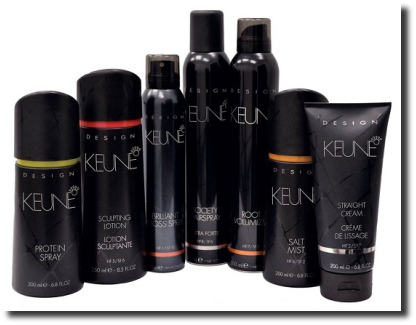 KEUNE'S SO PURE NATURAL BALANCE PRODUCTS — 100% PURE PLANT EXTRACTS
Discover the So Pure Natural Balance hair wellness experience. An exclusive professional hair cosmetic line with color, aromatherapy treatments and styling.
MOISTURIZING — Very gentle and natural conditioning for dry and damaged hair. A rich mixture of Ylang Ylnag and Palmarosa organic essential oils creates a sensual aroma.

COLOR CARE — A gentle, well-balanced regimen containing sunflower extract and organic essential oils of Jasmine and Sandalwood.
CALMING — Very gentle and natural conditioning for all hairtypes. A selection of special organic essential oils in combination with chamomile extract is a benefit for the sensitive scalp.

Mirabella Beauty is an expansive line of high-quality makeup which brightens, tones and hydrates the skin while providing coverage that conceals imperfections. With richly tinted pigments, these creamy glosses, shadows and liners complement women's natural beauty. Mirabella is a great source of cosmetics that are gluten free, talc free. paraben free, oil free, chemical free and FD&C/D&C dye free.